Christopher Lin 林 敦 義
<![if !vml]>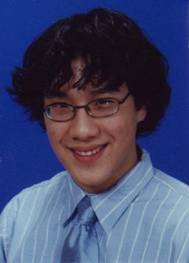 <![endif]>I am a son and a brother, a student and an athlete, a musician and an artist. When asked to talk about who I am, to define myself, I am lost. I am asked to talk about my accomplishments, my activities and my interests¡Xbut these things do not define me. It is not out of arrogance that I pass such accomplishments or awards off, nor is it that that I am short of those. And so I diverge to talk of how I see myself through my art¡Xwhat I believe to be the greatest part of what defines me.
A small sandy strip separates me from seeing myself. It is a reflection in a pond, an image that echoes only the inconsequential features, a forgery of me. The idiosyncrasies that lie deep within are lost in this murky, vacillating representation. It is when I see the white of a canvas, the white of possibility, that I see me¡Xnot just an image, but every facet of my personality shines with freedom. I am no longer trapped in the rigid world of the mirror, but am freely flowing, formed through layers of paint. This reflection is never permanent, always changing, always me. I thrive in the emptiness; I thrive in possibility. I see myself not only in portraits, but in every brush stroke that licks the dry canvas with oily paint, the quick, sharp piercing reds, the soft, lulling blues. Passion and misery are projected from my images, reaching out from behind the colors, no longer trapped by an insincere reality. This is my new world. Actions and reactions, feelings, meanings, and dreams are no longer replaced by what only seems. The idea of me becomes visible.
I am the blushy crimson that dapples my cheeks and the hint of thinned cerulean that glistens, wet and diaphanous on my eyes.
I am the silky mass of ivory black that flows, flips, and skirts at the crown of my skull.
I am the cool weary hues that retreat into the depressions of my face and clash with the vibrant warmth of yellows that shine of youth.
I am the quick, energized stroke and ethereal highlight that complete the smirk on my face.
I am raw sienna and permalba white. I am cadmium red and chromium green.
Colors swirl, dance, and mold my face, viscous, then permanent.
Red, orange, and yellow burn and inspire radiance, piercing to the core.
Green leads by its own right, arbitrarily inspiring the strangest of notions such as life, sickness, and the frog.
Blues dance in the sky, pensive and cold. But blue can¡¦t bring me down.
Purple is warm but cool, silly and confusing. Where does it go?
White gurgles and smacks, it shines and dulls. It is purity. It is innocence. It is death?
Black is dead, dark, and curious. It beckons with alien quality.
But grey is nothingness.
I command the armies of color.
All of this is projected onto a blank, barren canvas by the will of my hands. My brushes, pencils, charcoal, conte, and erasers uncover a more tangible, truer world. Lines and strokes define me. I am not a helpless observer to the image; I shape it. I mold how I see myself. Empowered by art, the fight for personal change is made that much easier when translated into an image. I see my flaws, but like a dried mark on paper, they are easily covered up and reworked. The small kneaded eraser, soft and malleable, is my safety net, quick to hide any traces of missteps or failures. I look at a finished canvas and see an expressive reflection of me, vibrant with surreal colors and marks, full of personality and style. I look in the mirror and see the anti-truth, cold, dull, and artificial. Reality cannot be captured in empty hard lines.
I am the director of my life.
I am a clay figurine in perpetual stop-motion animation.
Christopher Lin is the son of Dr. James Sowsei and Mrs. Nancy Yu-Yen Tung Lin. (林叟生、童玉英夫婦 )