Greater Washington D.C. Metropolitan Area
<![if !vml]>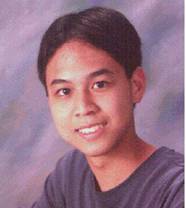 <![endif]>Andrew Johannes Lai 賴 友 涵 Loa Iwhaam
Taiwanese-American: a word with deep meaning and emotional significance. It's not merely a simple phrase to describe my ethnicity, but rather, an expression that brings back memories of an Asian culture that I have had the privilege of experiencing my entire life.
My Taiwanese-American heritage is something that I have never taken for granted. Growing up with Taiwanese as my first language, I studied "Taioaan bunsuhoad", Modern Literal Taiwanese, for five years at the Washington D.C. Taiwanese School. . My memories of Taiwanese School and the annual celebration of the Lunar New Year, Taiwan Night, are rich and varied. I still recall my first performance in Taiwan Night as a first-grader: dressed in green with a shell strapped on my back, I played the part of the tortoise in the play "Kw kab Peqthox? the "Tortoise and the Hare.?Now that I am older, I no longer sing and act out fairy tales, but Taiwan Night is a gala event that I still attend every year. For the 2002 Taiwan Night, I stepped out of my role as an audience member to serve as the Master of Ceremonies for the Taiwanese Youth Arts Foundation.
In addition to striving for academic excellence, extracurricular activities contribute to a significant part of my life. Having played the violin for ten years, I am currently a member of the American Youth Philharmonic. With the orchestra, I was given the privilege to perform in the World's Largest Concert broadcasted across the globe. At school, I serve as the concertmaster for the Symphonic Orchestra. This year, my peers elected me as the president of the Westfield Symphonic Orchestra. Aside from violin, tennis has played an important role in my life. Since freshman year, I have played on the school varsity tennis team, which placed 2nd in districts in 2002. Furthermore, I have competed in the United States Tennis Association high school division tournament for the past three years.
My Asian heritage and cultural experiences are not only limited to Taiwan, but encompass Japan as well. I have studied the Japanese language for twelve years. In elementary school, I participated in the Japanese Partial-Immersion program, in which I learned math and science from a Japanese teacher. My experience with Japanese culture culminated in the summer of 2003, when I was granted a full scholarship to travel Japan for three weeks as an exchange student. Without a doubt, the US High School Diplomats International Friendship Program was one of the most rewarding experiences of my life. I was among 26 students who were selected across the nation to participate in the cultural exchange program. The privileges of touring Japan, living with a host family, and residing with a Japanese roommate were priceless.
I feel extremely fortunate to have been given all these wonderful opportunities in my life which have shaped me into the person I am today. My only hope is that I will be able to give back to the world what I have gained and to enable others to experience the same privileges that I have been afforded.
Andrew Lai is the son of Mr. Koklioong Loa and Mrs. Liutyn Cviuo.